Learn Importance Of Personal Accident Insurance
It takes less than a minute for an accident to turn your life upside down. ​​​​​​​​​​​​​Have​ you ever thought what will happen if suddenly you meet with an accident and the damage caused by that accident can influence your capabilities of doing work? In that case, how will you secure your family and future financially? How will you manage your medical expenses? How will you educate your kids? In all these cases you are left with only one option and that is to stay financially secured against sudden consequences in life with "Personal Accident Insurance".
Our blog will help you in understanding what is Personal Accident Insurance? Why it is necessary for us? It's benefits and other features. So let's begin:
What is Personal Accident Insurance?
Personal Injury/ Accident Insurance covers the healthcare expenses associated with treating injuries happened due to in an accident. It compensates medical expenses for both injured policyholders and passengers, even if some don't have health insurance and provides coverage in case of disability or death caused by accidents.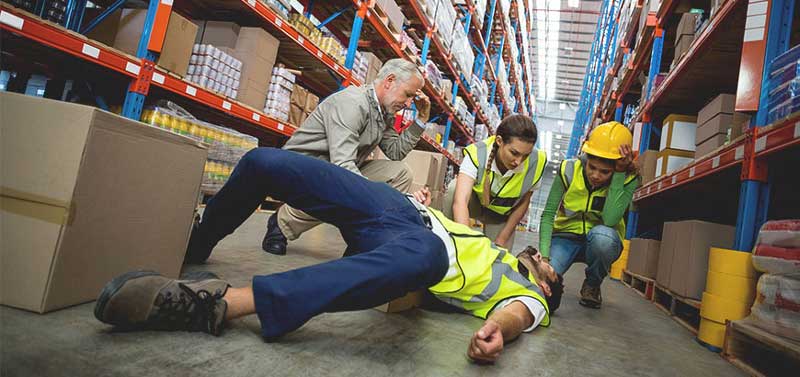 Accidents causes physical trauma and increase expenses such as hospital bills, ambulance charges and post medicinal treatment. In some cases, an accident can also affects the earning ability of the accident victim. Personal Accident Insurance provides financial assistance in such situations. Here, the policyholder pays a fixed premium for a stipulated period. This also covers the policyholder's spouse and children. So, go out and live your life with a protective cover and peace of mind.
Benefits of Personal Accident Insurance
When a major car crash happens or near to death experiences occurs at that time you will realize the actual advantage of having a personal accident cover. Since in India, the number of vehicles is increasing exponentially so the chances of meeting a road accident have increased to another level. So it is always better to be safe than sorry, therefore it is important to take benefits of Personal Accident Insurance.
Benefits of having personal accident insurance are as follows:
It provides financial security to the family.
Add-on covers with hospital & ambulance charges
It gives benefits for permanent total disability and permanent partial disability.
Complete coverage after death and loss of income.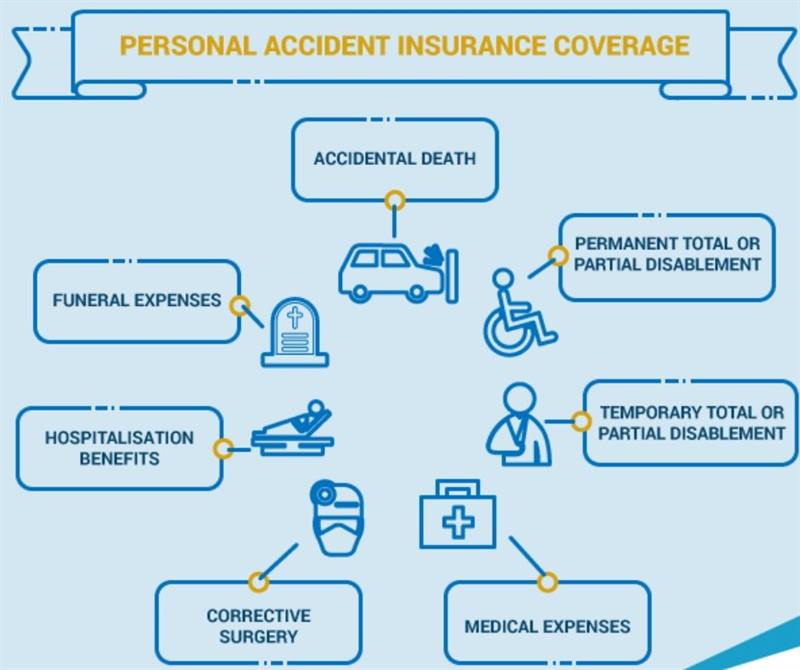 No requirement of medical tests and documentation.
It gives full compensation for medical expenses.
It covers education fund for children after an accident.
It covers the healthcare costs of injuries caused by an automobile accident.
It covers both the policyholders and their passengers, despite whether they have health insurance.
Who Can Opt Personal Accident Insurance?
Personal Accident Insurance is important for everyone, irrespective of their age, occupation, and health. But it mostly provides insurance to self-employed, salaried and business class people. You should buy this plan as soon as you start earning or working. Even after taking precautions, accidents happen. This may lead to partial injury, permanent injury or sometimes even death. In that case, a personal accident insurance policy proves to be a saviour. The premium of a personal accident cover depends on the occupation you are in. For example teachers, lawyers, bankers are at lower risk, so will come in a different package of premium, builders, contractors, garage workers & engineers are associated with fieldwork will come under high risk. Similarly, the insurance package will vary for mountainers, a worker at explosive industries and journalist.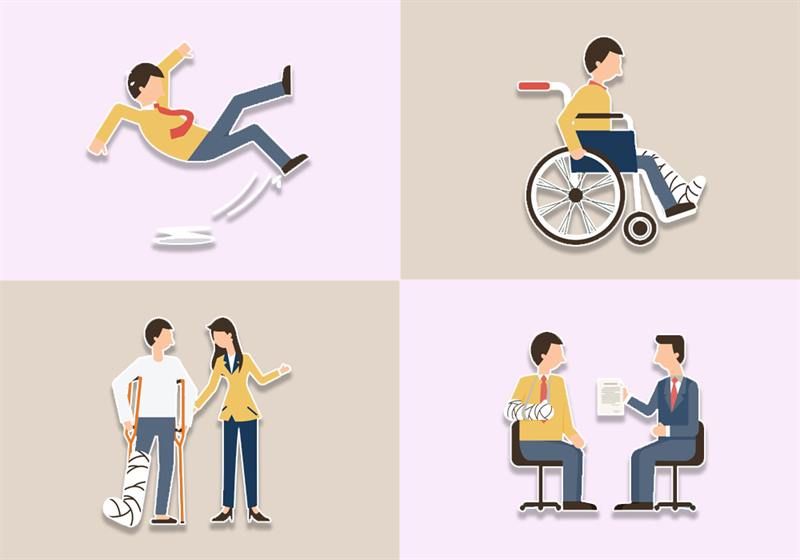 Nations with compulsory Personal Accident Insurance Coverage: 
Personal Accident Insurance is mandatory in Florida, Kentucky, Hawaii, Kansas, Massachusetts, Minnesota, Michigan, New Jersey, Pennsylvania, New York, North Dakota, Utah, and Puerto Rico. It is a compulsory add-on to automobile insurance but it is optional in few countries such as Delaware, Arkansas, Maryland, Texas, Virginia, and Washington, D.C.
In above-mentioned countries, the least insured amount of conditions are set by governments. Maximums requirement are set by various insurance companies and it can vary. If health insurance of policyholder gives coverage for injuries and recovery related to an accident, the policyholder probably only needs to purchase the minimum amount of insurance required by his or her nation.
Features Not Covered in Personal Accident Insurance
Most of the Personal Accident Insurance companies do not cover the following points:
Any claim in the same duration of insurance surpassing the capital sum guaranteed.
Suicide, attempted suicide etc.
Damage caused by self.
War and nuclear hazards.
Ionizing radiation or radioactivity
Natural death or death due to diseases like HIV or AIDS
Participation in hazardous activities such as sky diving, parachuting, scuba diving, bungee jumping etc.
Committing a violation of law with criminal intent.
Hope you have understood what personal accident insurance means and why it is essential for you. Personal Accident Insurance benefits may vary from the company to company. We will only say that choose the insurance policy wisely to get maximum coverage.
Sources: Reliancegeneral.co.in, Wikipedia 
Also Read: Most Recommended Travel Vaccinations For US Travellers